President's Welcoming Message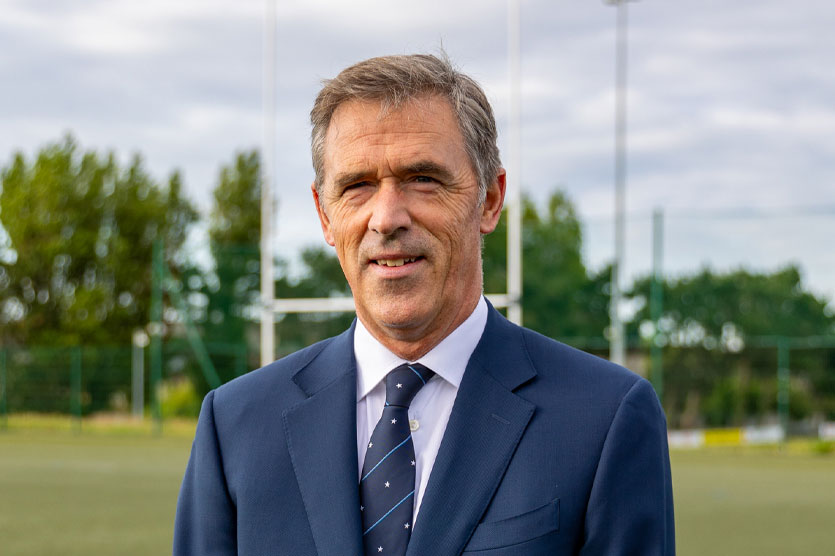 I would like to welcome everyone to Dooradoyle – players, coaches, parents, sponsors and guests for what I hope will be a long and successful 139th season for the club.
A huge thank you to all of the volunteers at Garryowen, who help to keep the show on the road and without whom the club would not function.
I am very honoured to have been elected as President of this great club and look forward to a successful season ahead for all of our teams.
With best wishes
Dr Jim Fehily,
President
Garryowen Football Club
Our History
Garryowen Football Club was founded in Limerick in 1884, and takes its name from the Garryowen area of Limerick. The word Garryowen – the gardens of John – relates to the association in the 12th century between St. John's Church and the Knights Templar whose house in Limerick was dedicated to St. John the Baptist.
The idea for the founding of Garryowen originated outside Trehy's house (facing Carey's Road) when an initial small group including amongst others Alderman Mike Joyce MP, Alderman Tom Prendergast and his brother William Prendergast, felt that Limerick should have a first-class senior rugby club. After a number of meetings held in the Catholic Institute, the club was formally constituted at a meeting held on 19th September 1884, in the Athenaeum (later the Royal Cinema), in Upper Cecil St., and from those humble beginnings, one of rugby football's greatest institutions began. The founding Garryowen committee was comprised of President W.L. Stokes, Secretary J. Gogarty, Treasurer M. L. Joyce, Captain J. O'Sullivan and Messrs, Patrick Stapleton, Tom Prendergast, J. O'Connor, J.G. O'Brien, Roche, Riordan, Pender, Gilligan and Dick.

The name Garryowen came to symbolise Limerick and Ireland for our exiles all over the world. The marching song of the US 7th Cavalry is Hurrah for Garryowen and in the First World War, the Munster Fusiliers dribbled a ball shouting Up Garryowen as their war cry, as they went over the front into battle. The white five-pointed star on the left breast of the Garryowen jersey represents the then five mediaeval parishes of Limerick – St. Mary's, St. Munchin's, St. Michael's, St. Patrick's and St. John's.
The reputation that Garryowen Football Club has achieved wherever the game is played has been earned as a result of the consistent success of Garryowen teams spanning 138 years, right throughout the ranks from under age to senior levels.
Throughout the club's long history, whether playing in the Market's Field, or since 1958 in Dooradoyle, Garryowen Football Club has always had – and always will have – success in competitive football as our raison d'être. Our achievements section will give you details of those successes. Every player who pulls on a light blue jersey with a white star on it, whether for the first or last time, has become part of a journey that has seen consistent success, whatever the competition. Today, our eyes are firmly fixed on the future, but our hearts and minds are set very much in our inheritance – our very proud tradition.
Garryowen FC have won the All Ireland League on three occasions, the All Ireland (Bateman) Cup also on three occasions, and throughout our 138-year history we have won the Munster Senior Cup thirty nine times, making us the most successful club in what is one of Ireland's toughest and most prestigious competitions.
Fifty six Garryowen players have represented Ireland throughout our history, with eight of these performing with distinction on various Lions and in many cases Barbarians sides. Two of our players – Philip Danaher and 2002 World Rugby Player of the Year, Keith Wood – have captained Ireland. A number of Garryowen players have gone on to coach Irish teams at all levels. Ten Garryowen players have represented the British and Irish Lions, and in keeping with Garryowen's long service to the game in Ireland, the club has provided five Presidents of the IRFU. Current vice President Pat Whelan served on the International Rugby Board for a number of years, and was Chairman of the Six Nations. Current President John Quilligan, is a former President of the IRFU, which gives him the very rare and honourable distinction of a son following his father – Kevin – as IRFU President.
Every position on the Irish team has been filled at some stage by a Garryowen player, underlining our commitment to a balance of tough forward play with a very open running style. We are very proud to have represented our community for 138 years, and we look forward to having that honour, for many years to come.
Our hearts so stout have brought us fame,
For soon 'tis known from whence we came.
Where e'er we go they dread the name,
Of Garryowen in Glory
Our Future

Dooradoyle has been our home since 1958 and as we look towards celebrating our 150th anniversary in 2034 we are in the process of committing to a new strategic plan for the club. Our club, rugby in general and our community have seen significant change over the decades and we need to adapt to the current times we are in and look to the future with confidence.
Our club sits at the centre of over 10,000 people in our local neighbourhood and we have made concerted efforts to strengthen our community links over the last number of years. This commenced by the creation of the Blue Mile which was a volunteer-led initiative completed at the start of the COVID-19 pandemic. The Blue Mile has been hugely successful and is an essential community resource for the hundreds of people who use it every week.
This is the start of a process where we see Garryowen working in partnership with other community groups and organisations in the years ahead. We see our clubhouse and grounds as a location where people's health and overall well-being can be improved while enjoying being in Garryowen. We currently welcome local primary and secondary schools into our grounds for their sports activities and also host various clubs in Athletics, Karate, Cricket, Tag-rugby, Tug-o-war etc.. We also plan to host Yoga, Pilates, strength and conditioning classes, community meetings, book clubs, bridge clubs in the future etc..
We believe that Garryowen FC can be successful in the decades ahead on and off the rugby field and at the same time work in partnership with multiple different groups which will see our clubhouse and grounds become a focal point for multiple community activities.
Our members' approved strategic plan will see us look at our overall club and agree on how we can work towards our 150th Anniversary while strengthening every aspect of what we do on and off the field.
Club & Player Insurance
We all know that physical sports carry with them a certain level of risk for those involved. When players voluntarily take part in games and training, injuries can sometimes occur that are not preventable and are simply a part of the game.
The executive committee would like to draw your attention to the details of player health and personal accident insurance cover. Garryowen Football Club retains insurance cover for players under the IRFU Player Insurance Scheme. This scheme covers club players for catastrophic injury only e.g. loss of limb, permanent disablement etc. The insurance policy does not cover loss of earnings, medical expenses, accident and emergency visits or dental repair.
It is critical that all players or their parents/guardians investigate their insurance options. It ultimately remains the individual player's responsibility, to arrange insurance cover for serious and not so serious injuries such as sprains or broken bones etc. The costs involved to obtain x-rays, consultations with specialists, scans, operations etc. can be huge and the costs will be covered if the player purchases a health insurance policy.
We recommend that players are covered by medical insurance from a recognised private medical insurer.
Policy Statements
Respect for your opponents, and by extension for anyone who plays or officiates the game, is an integral part of the game, for Garryowen. We expect all of our players to adhere to this explicit and implicit value, given that our core belief that good people make players, has stood us in good stead since 1884.
Care for our players is of paramount importance to Garryowen, and the club adheres to, and promotes, a range of policies and regulations in relation to player welfare, which are set out below.
Garryowen is proud to represent our community of Limerick and the Mid-West. We welcome all communities, and all sections of every community to our club, and we are committed to contributing to the community in which we are based.
We are on a pathway to developing a range of facilities that are integral to community health and wellbeing. As well as our own players and members, we actively welcome other sporting, leisure and business groups to our campus, and encourage them to avail of our facilities. We have a long and proud history of working with young athletes in developing their physical and mental capabilities and health.
We want to extend the benefit of our experience of developing good health practices, to all sections and age groupings within the Limerick community.
Garryowen FC operates a stringent set of Club Rules and Policies, in line with IRFU Guidelines. Statements are viewable and can be downloaded below.
Garryowen FC subscribes to the policies of the IRFU and World Rugby in relation to the following documents.
Player Welfare
We are very fortunate at Garryowen FC to have very positive rugby on offer to all our players. Our excellent coaches, who give great time to volunteering, ensure everyone's experience of rugby with the club is memorable. We aim for all our players to keep improving, experience success and enjoy their time with our club.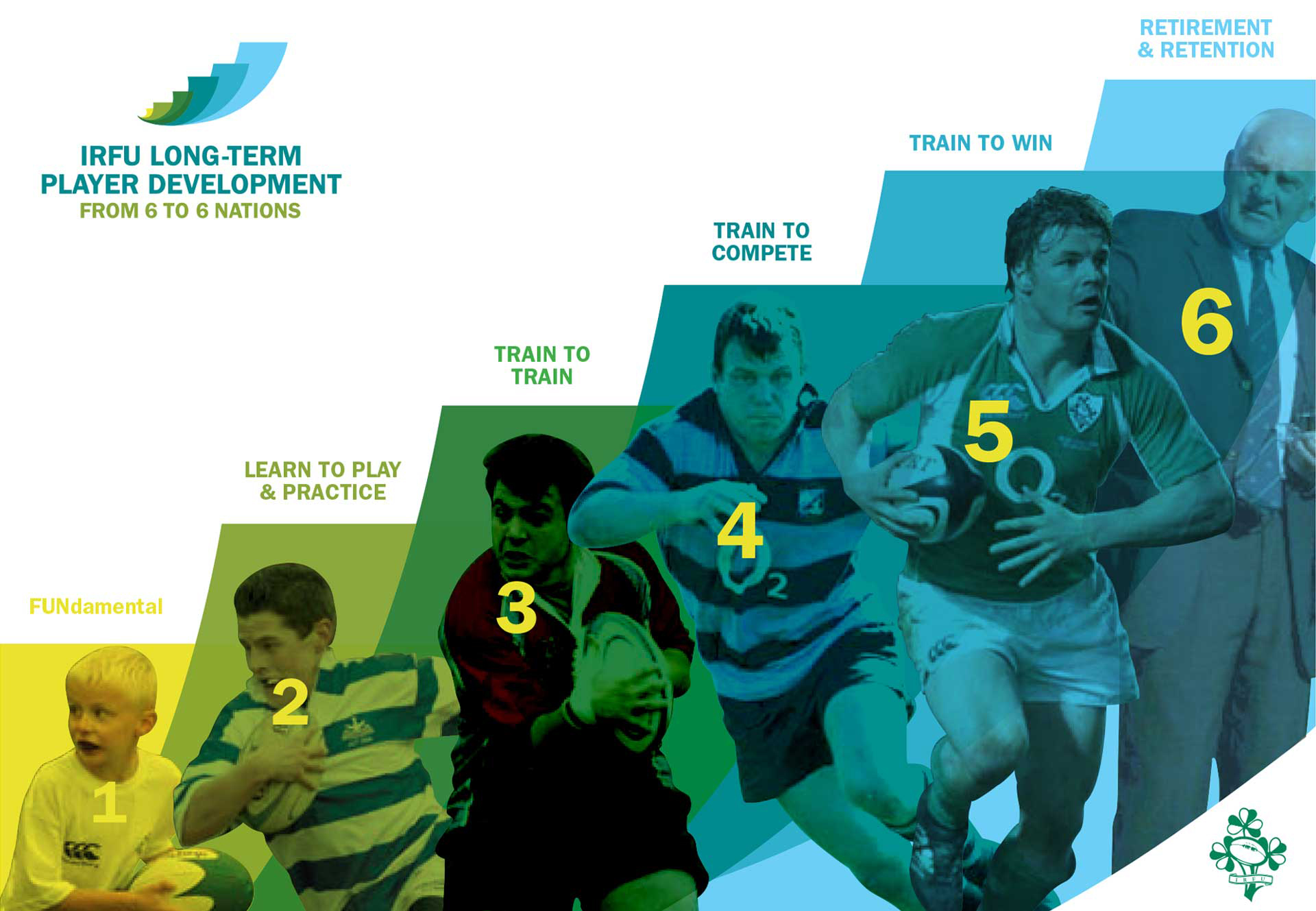 Players in this category are age-grade players (5 – 12 approx) The capacities of young players dictate that most learning activities are best promoted through the medium of play. This theme does not just apply to modified games but also to reduced exercises and drill activities. Specific techniques and corrections can be integrated throughout the activity while still maintaining maximum participation and enjoyment. This will also ensure that players receive a positive and motivating experience.
To facilitate the needs and capacities of younger players the coach should act as a Guide, providing the environment for players to explore in a safe and exciting way. Corrections and guidance should be subtle and simple, dealing with issues in a broad rather than detailed perspective.
The end product should be a fun and safe experience. The emphasis is placed on open play (general movement) with all players running, passing and tackling. Younger players will continue to participate in activities that are enjoyable and rewarding. As players mature and develop greater capacities their needs and the demands of the game will also change.
Stage 2. LEARN TO PLAY & PRACTICE
Players in this category are age-grade players (12-14 approx). At this stage the players' capacities allow them to learn through exploring. Trying out new approaches, pursuing solutions and new experiences in a controlled environment will facilitate the development of the player. Individuals are capable of problem-solving and should be encouraged to express their opinions.
Due to maturation, the players are now capable of longer periods of concentration and attention; therefore teaching rather than guiding is more appropriate for accelerating learning. Knowledge of how to facilitate learning through understanding is critical together with skill development and progressions.
With the capacity for greater understanding and technical competence the game develops from open play to a more structured format to include the development of basic unit play (restarts – forwards & three-quarters). The game is still fun, safe and enjoyable with ample running, passing and tackling.
Players in this category are two-fold; age-grade players (15-17 approx) & adult 'junior' players. Age-grade players have the capacity to focus and therefore can increase their competencies radically with the correct attention & application. Greater self-awareness and responsibility are characteristics of players at this stage, which if nurtured will form the foundations for future realization and success. Players are highly competitive and foster a greater awareness of team spirit and common goals and values. Adult players (junior) have similar technical and tactical competencies due to limited development, but have greater physical, mental and lifestyle capacities due to greater maturation and experience/achievement.
Given the greater capacities of players, the requirement for the coach is to go beyond teaching and challenge players to become more proficient and achieve higher standards of performance. Therefore the coach extracts a higher level of performance through appropriate challenges and application of pressure.
Even though players are now highly competitive and play in league & cup competitions the essence at this stage is precise performance of the individual, units and team in the pursuit of achieving goals. The game is clearly structured and cohesive, with a greater emphasis on the role of the units. However, to maximise development, the focus should be on performance in the pursuit of desired outcomes and results.
Players in this category are two-fold; players (18-21 approx) & 'junior 1 & above' players. Players have now committed themselves to rugby as their chief sport and are willing to invest a significant amount of time and energy to become successful. They are driven and are fiercely competitive with a greater capacity for all game related competencies. Players pay more attention to developing themselves as positional specialists in order to undertake their functional roles. With their increase in knowledge and maturity, players are capable of strong opinions and of taking greater responsibility while also contributing more towards problem solving.
Since the characteristics of players are such that they have the capacity for greater input, the role of the coach shifts towards facilitation. Allowing opportunity for opinions and problem-solving is critical if players are to develop confidence and relative autonomy. The coach will still need to employ teaching, challenging and guiding skills where appropriate, the emphasis should be on developing players' ability to 'navigate' rather than 'replicate'.
The game is fiercely competitive with positional specialists clearly influencing events, mini units & units well synchronised and team play concentrated on reducing error and maximising success. The focus is on achieving desired outcomes in respect to attack & defence goals (team, unit, mini-unit). For example, winning the line-out is more important now than thinking about the performance; however the essences of the previous stages (performance, structured, fun) are all brought to bear in the pursuit of achieving the 'outcomes'.
Players in this category are adult representative players. These players have the capacity to go beyond the rehearsed repertoires, strategies and tactical solutions and innovate when the situation demands. Highly competitive and driven they should be excellent in their positional & functional roles as well as have the capacity to fulfil multiple roles in general movement play. They must have the ability to deal with the pressure of public expectation, interest and intrusion together with self-management and self-development.
The principles of adult learning together with the characteristics of champion athletes imply that coaches must release rather than restrict the potential of the players and other coaching staff, otherwise the potential for creativity and responsibility will be stifled. With player accountability comes player responsibility and relevant player control. For this to occur the coach must create an environment where trust and respect between all squad members is established while still maintaining ultimate responsibility for team performance and results.
This is the 'business end' of rugby, elite/professional sport is about winning and there's not much consolation in losing. Analysing & exploiting opponents weaknesses while hiding and protecting your own weaknesses is a main characteristic of this stage. However, by consistently improving performance and achieving desired outcomes the incidents of winning will ultimately increase.
Stage 6. Retirement & Retention
Players finish playing for many reasons: age, injury, family commitments, business and vocational goals, etc… For the game to develop and for the next generation to benefit from the knowledge and support of those who have gone before, there are many areas where ex-players can 'put something back':
Club Song
Hurrah for Garryowen
We won't go home without it
We'll dress it up in blue
We won't go home without it , they'll kill us if we do
So let the forwards do their duty and the backs will follow up
And home to Limerick we'll bring the Munster cup.
Chorus
Hurrah, Hurrah, Hurrah for Garryowen
Hurrah for Thomandgate
There stands the Treaty stone
Oh we never will deny it nor we never will disown
The city of the violated Treaty
When William saw what he had done
To Killaloe he fled
And left the sons of Limerick to guard and bury their dead
Soon after he returned with victory on his head
To the city of the violated Treaty.
Chorus
Hurrah, Hurrah, Hurrah for Garryowen
Hurrah for Thomondgate
There stands the Treaty Stone
Oh we never will deny it nor we never will disown
The city of the violated Treaty
We took it by O'Briens bridge
And back by Killaloe
We took it boys, we took it
And dressed it up in blue
So let the forwards do their duty and the backs will follow up
And back to Limerick we'll bring the Munster cup.
Chorus
Hurrah, Hurrah, Hurrah for Garryowen
Hurrah for Thomondgate
There stands the Treaty stone
Oh we never will deny it nor we never will disown
The city of the violated Treaty
Garryowen Thirds Front Row
I'll tell you all a story about some lads I know
They're known throughout the province as the "Garryowen Thirds Front Row"
There's a little chorus and the chorus you all know
So tell me are you ready, up and under here we go
Chorus
And it's up and under here we go
Are you ready yes or no
Up and under here we go
It's the song of the Garryowen Thirds Front Row
There's a film made in London, it was censored treble X
The sort of film that would shock, one of scandal, lust and sex
Mary Whitehouse saw it and now they'll never show
A film called "Up and Under" starring the Garryowen Thirds Front Row
Chorus
And it's up and under here we go
Are you ready yes or no
Up and under here we go
It's the song of the Garryowen Thirds Front Row
They had trouble in Uganda with President Amin,
They sent an envoy out there with a message from the Queen,
The stay of execution Amin he answered NO
Till a letter was sent from Dooradoyle from the Garryowen Thirds Front Row
Chorus
And it's up and under here we go
Are you ready yes or no
Up and under here we go
It's the song of the Garryowen Thirds Front Row
They had trouble on the railways with some of soccer's fans
I've watched them on the terraces, throwing stones, rocks and cans,
They've stopped the soccer special, it's a waste of time I now
For in the end they'll have to send for the Garryowen Thirds Front Row
Chorus
And it's up and under here we go
Are you ready yes or no
Up and under here we go
It's the song of the Garryowen Thirds Front Row
There's a programme on the telly, I watch it when I can
The story of an astronaut the first bionic man
He cost 6 million dollars, it's a lot of bread I know
But *** offered more for the Garryowen Thirds Front Row!
Chorus
And it's up and under here we go
Are you ready yes or no
Up and under here we go
It's the song of the Garryowen Thirds Front Row
Match Tickets – Ireland & Munster

A limited number of 
Tickets

 will be available to fully paid up members, for all Autumn & Six Nations International

Members must register their interest by email only to: garryowentickets@gmail.com

Applicants will be advised on the allocation, 1 week prior to the game.

For Munster & Heineken Cup tickets contact Ticket Officer:  Jim Kinnevane 086 822 5881